"Eppy McGee Bobblehead" night goes horribly wrong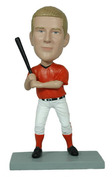 BAY CITY, MICHIGAN--On a cool night at Bay City Stadium, dejected fans filed out into the parking lot, furious that they had just seen their team shut down by the
Miami Master Batters
and their number five starting pitcher
Don Sutton
, who threw a complete game no-hitter against a
Bay City Tomahawks
lineup that just looked ridiculous.
All this on "
Eppy McGee
Bobblehead night", a promotion where the first 5,000 fans would recieve a bobblehead bearing the likeness of the star third baseman. Sadly, many of the 5,000 bobbleheads were thrown onto the field in protest.
"Sutton was in the zone," remarked CF/DH
Dallas Jackson
, who was the final out of the game, "We couldn't touch his stuff, it was all over the place. I don't blame the fans for being emotional about the game. I would be too."
"When your team gets shut down like that it's the worst feeling in the world," manager Dudley Fierce told reporters after the game, "And when it happens to us at the end of a series where we'd lost four already in some close games--that's when it really feels gut wrenching. But we have to make sure to give credit were its due. Don Sutton pitched one hell of a game and we have to appreciate that."
The Tomahawks, who were slated to be among the worst in their division at the start of the season, had shown some promise at the start of the season, but having been swept by Miami, the critics are starting to come out of the woodwork. Many claim that they are a team that is only capable of defeating the very worst teams in the league.
Time will tell. But for now, the bobblehead-littered field at Bay City Stadium is a testament to the fans' discontent.
BOX SCORE